"Every spirit builds itself a house; and beyond its house, a world; and beyond its world a heaven. Know then, that the world exists for you: build, therefore, your own world." - Ralph Waldo Emerson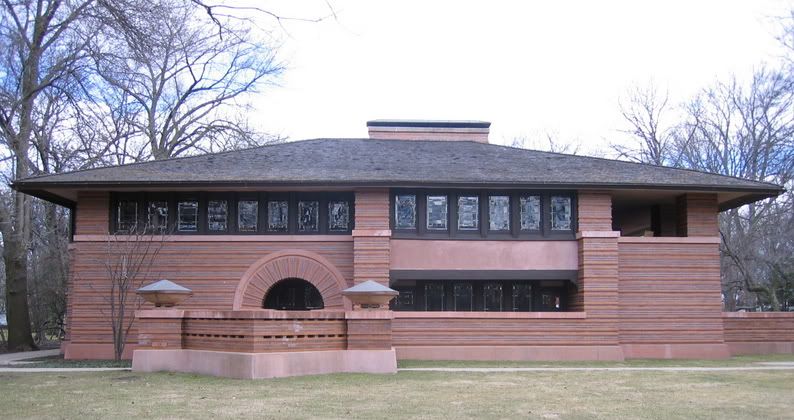 I have an obsession with Frank Lloyd Wright. I grew up in Oak Park/River Forest. Maybe that has something to do with why, every fall, I go back and I walk. From house to house, I walk. It is an open air museum.

In Donald Hoffmann's amazing book, "Understanding Frank Lloyd Wright's Architecture
" he quotes Schopenhauer in trying to better understand Wright's use and understanding of the prairie landscape in which he built, an ideal, an aesthetic I understand down to my very DNA...

"Let us imagine ourselves transported to a very lonely place, with unbroken horizon, under a cloudless sky... Such surroundings are, as it were, a call to seriousness and contemplation, apart from all will and its cravings; but this is just what imparts to such a scene of desolate stillness a touch of the sublime. For, because it affords no object, either favorable or unfavorable, for the will, which is constantly in need of striving and attaining, there only remains the state of pure contemplation, and whoever is incapable of this, is ignominiously abandoned to the vacancy of unoccupied will, and the misery of ennui. So far it is a test of our intellectual worth, of which, generally speaking, the degree of our power of enduring solitude, or our love of it, is a good criterion."

Wright spoke of his architecture in the March 1908 issue of the Architectural Record saying, "The prairie has a beauty of its own and we should recognize and accentuate this natural beauty, its quiet level. Hence, gently sloping roofs, low proportions, quiet sky lines, suppressed heavy-set chimneys and sheltered overhangings, low terraces and outreaching walls sequestering private gardens." And I would add, hidden entryways. But nowhere have I found the feel of Wright better expressed than in Ken Burns documentary...